"We believe that in the Pro AV solution market, the innovation and integrity of solutions determines the brand's success. AV Access will be releasing increasingly advanced and unique solutions, creating a rich product line for our customers."
AV Access, a leading brand in the online market of Pro AV industry, has launched its brand-new HDIP100 AV over IP solution recently. This solution has spread a new idea to the whole industry as it requires no configuration on Ethernet switch. The codecs can work flawlessly with an unmanaged Ethernet switch, so users don't need to spend so much time in configuring a managed switch that they usually adopted before for AV over IP solution. With its easy-to-use and plug-n-play features, HDIP100 can be widely used in sports bars, conference rooms, digital signages, etc.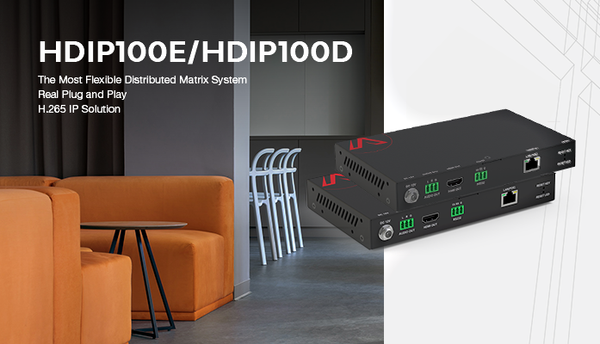 No Configuration Required, Totally No-Brainer Solution
"HDIP100 solution supports both unicast and multicast streaming, so it can easily work with common managed or unmanaged Ethernet switches on the market," said Kevin Zhang, director of product management.
The brand-new codecs just take a few steps to complete installation. First of all, get all devices prepared and hook them up, including the codecs, HDMI sources and monitors, an unmanaged ethernet switch as well as a wireless router. Second, install the free VDirector App on an iPad or android phone, then connect it to the wireless router. Finally, users can easily perform A/V switching or create a video wall on their palms. "Whether you are an installer or end-user, you can effortlessly complete installation, even if you were not exposed to any IP knowledge before," added Kevin.
Video Wall Support & APP Control
With the intuitive and user-friendly VDirector App installed on a mobile device, visual control on palms can be quite easy. The wireless router delivers data from the codecs to the mobile device via Ethernet switch. With just a few drag-and-drop steps, users can perform matrix switching, or build a video wall up to 16×16 with different layouts. Fast and seamless switching is also supported for better user experience. The decoder is equipped with a built-in scaler, so users can switch one video source to another in a fast and seamless way.
In addition to the VDirector App (for iPad or android phone), users can also install IP Conductor Lite software on a Windows PC for visual management and control.
Flexible, Scalable and Powerful IP System
HDIP100 supports point-to-point application, so only one pair of encoder and decoder can work together to transmit 1080P HD video signal up to 394ft/120m. Users can also add up to 254 units of encoders or decoders to form a distributed IP matrix, which is far more flexible and cost-effective than traditional matrixes.
What's more, this zero-configuration system supports H.265 video compression, L/R stereo audio de-embedding, RS232 pass-through, PoE and other functions.
In short, AV Access HDIP100 encoder/decoder offers an absolutely simple, economical and reliable IP-based solution. With unmanaged switch compatibility, users can complete its installation even without professional guidance. "It has long been our mission to provide plug-and-play and practical products for users around the world. We believe HDIP100 can greatly simplify the way people use AV over IP system and add more convenience to their lives," concluded Kevin.
You May Be Also Interested